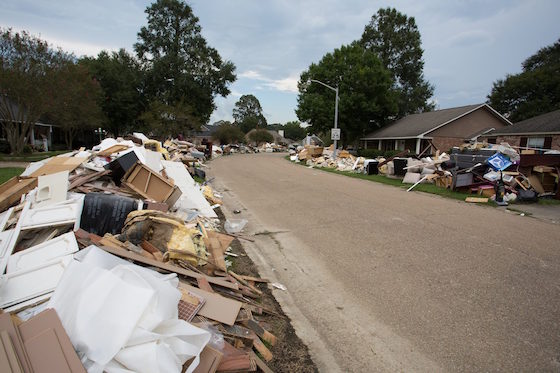 As Baton Rouge begins to recover from devastating floods, the Jewish community is mobilizing to provide support. Federations' Baton Rouge Flood Relief Fund is providing critical aid to the local Jewish community as volunteers and local organization begin the cleanup and rebuilding process.
In an Op-Ed written for the Jewish News Service, Brian Seymour chair of the JFNA Emergency Committee, wrote that:
This is a long and expensive endeavor. It will be a while before any sense of normal returns. But this is where each of us can make a difference. Together, we can raise the estimated $1 million the Baton Rouge Jewish community needs to recover.

Federations have launched a relief fund for support this critical post-disaster work. So far, we have raised nearly a quarter of a million dollars, including generous grants from the Jewish Federation of Greater New Orleans and the Jewish Endowment Foundation of Louisiana. Every donation matters. Every gift is a statement of solidarity with Baton Rouge, an act of tikkun olam in the most tangible way possible.

We need your help. First, please make a donation to our Baton Rouge relief effort. Second, invite your friends and family to give with you. Third, reach out to your Jewish community—your synagogue, your community center, your online networks—and ask them to join you in donating to amplify your impact at an even greater level. If each of us steps up, we can make a collective, tangible difference in the lives of so many.
To learn more, read Brian's entire piece here.
It's not too late help if you have not yet given.