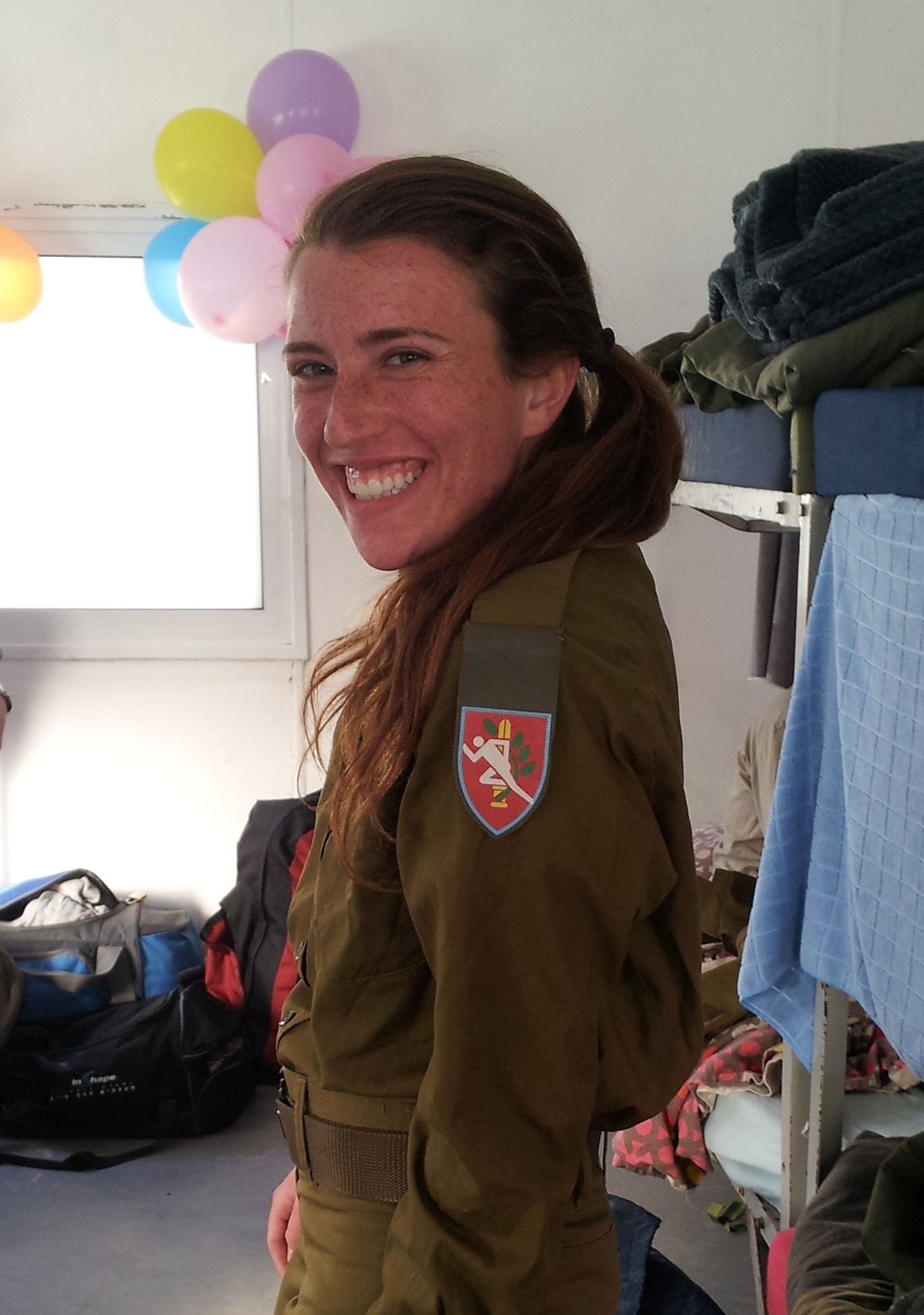 San Diego's Israel Connections Initiative fosters engagement and connections between San Diego and Israel. With your support, we are proud to partner with the Jewish Agency for Israel (JAFI). JAFI brings Jews to Israel, Israel to Jews and helps build a better society in Israel and beyond.  
Danit Felber, 26, is a graduate of The Jewish Agency's Garin Tzabar and Wings programs. Proud to have one of our own serving as a lone soldier in Israel, we were fortunate to catch up with Danit and are pleased to share her story with you.
Danit grew up in Poway, San Diego. She attended San Diego Jewish Academy until the end of 4th grade, and then Soille Hebrew Day School from 5th to 8th grade. She attended Camp Ramah for 10 years, first as a camper and then as a counselor.  She also visited Israel twice during her childhood, once for her sister's Bat Mitzvah and again as part of a Ramah Israel Seminar.
"I grew up in a very Zionist home, I went to a very Zionist summer camp, and I went on March of the Living, which is pretty effective at showing young Jews the importance of living in our own country."
Danit moved away for college, studying Business at the University of Pennsylvania. She was deeply involved in Jewish life on campus with Hillel's Israel Sector, Semitic Action, and the Israeli-Palestinian Dialogue Group. There were always events and activities taking place and Danit was often found front and center.
"I remember the first time I was exposed to people with strong anti-Israel sentiments. I was surprised to find that many of these people were actually intelligent, thinking human beings with compelling arguments. Experiencing this created an ostensible conflict between my love for Israel and my commitment to social justice. I was in a weird place where I sympathized with Palestinians and had serious criticisms of Israeli policies but didn't feel I could compromise on my people or homeland. In college, I was introduced to a movement of activists who seemed able to reconcile a genuine concern for Palestinian issues with a commitment to Jewish liberation and independence in the land of Israel."
Danit's love and commitment to Israel compelled her to take a major next step. In 2013, Danit made aliyah to Israel and joined Garin Tzabar, an IDF preparatory program. During this time, she lived on Kibbutz Alumim, just outside of San Diego's partnership region of Shaar Hanegev, and only a few miles from the Gaza border.
"I have a few friends who had made aliyah and joined the army through Garin Tzabar, so that was what made the most sense to me. I wanted to make the transition from American civilian life to Israeli military life as smooth as possible."
During her time in the army, Danit served as a combat fitness instructor. "The beginning was a little hard because I didn't really speak Hebrew and somehow conned my way into a job that required A LOT of speaking, but a couple months was enough to learn what I needed to know."
Nearing her release from the army, Danit joined The Jewish Agency Wings program, a comprehensive series of services that provide support for young adults who join the IDF as "lone soldiers", immigrants who do not have close family members in Israel.
"There's a special conference for lone soldiers finishing the army, and Wings was one of the featured programs. I chose Wings because it really does amazing things to keep a community of former lone soldiers together, and prepares them for their transition back into civilian life."
After her release, Danit chose to stay at Kibbutz Alumim for another year and worked as an early childhood educator. A little over a year ago, she moved to Jerusalem and became the Managing Director of Brit Hazon, a grassroots movement to inspire North American Jewish students to play active roles in advancing the story of the Jewish people.
"Our students really understand themselves as participants in Jewish history. We prepare them to engage other student activists on campus in a meaningful way that adds much-needed nuance to the conversation surrounding Israel."
"Currently, I am focusing on two things. In the short term, I am getting married this summer, so my life is somewhat consumed by planning my wedding. In the long term, I'm working to build Brit Hazon into a more expansive organization that is able to really address the needs of intelligent passionate students seeking positive connections with Israel based on social justice and Jewish commitment."
Click HERE to learn more about Wings. 
By Samanthan Robinson, JAFI