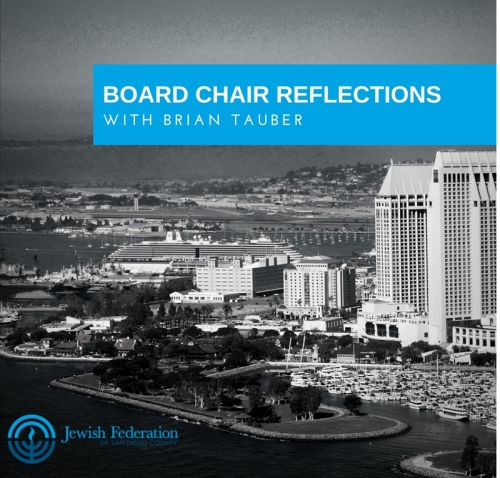 I have two confessions: 1) I like my Sundays to be very lazy; and 2) As someone committed to one of Federation's core missions of ensuring a strong Jewish community for our children, I sometimes find serving as the Board Chair challenging (enjoyable, but challenging). With those admissions in mind, I was blown away by Israel Fest at Liberty Station this past Sunday.
While we must remain diligent in our work for our future as a Jewish community, Israel Fest reminded me of the absolute strength we have as a people here in San Diego. As I meandered through the numerous booths, massive inflatable slides, camel, art, music, food trucks (ok, we need more food trucks next year) and free beer garden (do I have your attention for next year?), I was overcome by the electric atmosphere that permeated the venue. I was inspired by the incredible diversity of the attendees and the joy they exuded in our collective celebration of 70 years of the miracle of Israel. I found that the existence of Israel, despite disagreements over politics, is a cause around which we could all rally. Israel Fest brought together over 3,200 attendees - almost 3 times the number from last year – to proudly commemorate this watershed anniversary.
I left Israel Fest with a smile on my face, warmth in my heart, and full of optimism about our community. I was overjoyed at the number, variety and energy of those that joined together on this late April afternoon. I was in awe at the number of Jewish groups dedicated to providing a variety of services to our community. I was incredibly grateful to the organizations that partnered with and supported Federation and its outstanding staff in planning and executing such a memorable afternoon.
Being in the presence of such a positive and enthusiastic crowd energized me and provides emotional fuel as Federation continues to ensure that our kids and their kids can come together as a strong Jewish community to celebrate Israel's Centennial, Bicentennial and beyond. Thank you all for that boost.
As for my lazy Sundays, Israel Fest was time very well spent.