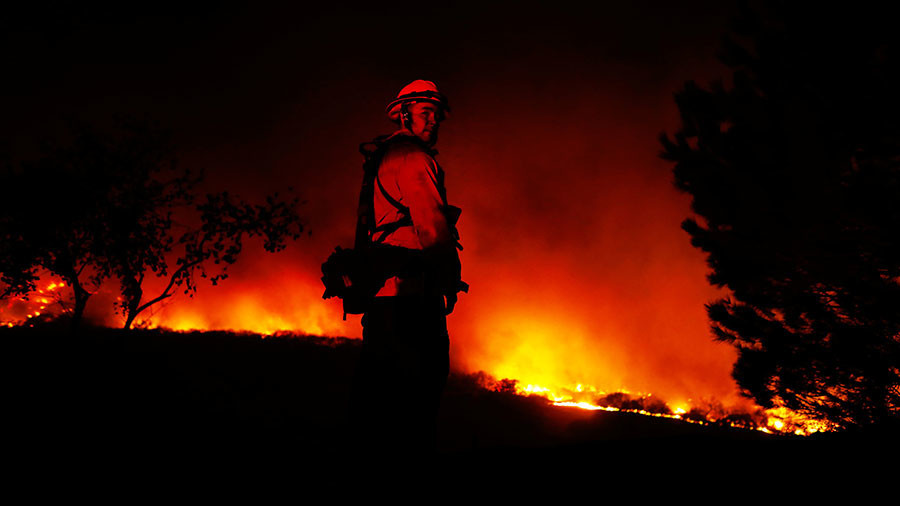 A firefighter working on extinguishing the Lilac Fire in Bonsall, California, December 7, 2017 © Mike Blake / Reuters
In times of crisis, our community comes together.
Over the past week many of us were anxiously watching the developing fire in Bonsall, not knowing how quickly it would spread. 
Federation, in partnership with Jewish Family Service, developed response protocols to prepare us for this type of emergency. Federation is responsible for direct communication with organizations in the affected areas, assessing unmet needs and coordinating the safe guarding of torahs, siddurim and other import religious and organizational items. Jewish Family Service provides direct services to individuals impacted by the emergency.
As soon as these needs are assessed, Federation is charged with convening a conference call with representatives of all of our San Diego Jewish organizations. In the case of the Lilac fires, we reached out to over 200 representatives to participate in a call this past Monday. The purpose of the call was to alert the community of the most immediate needs, determine how to coordinate meeting those needs, and decide if an "emergency fund" to collect donations was necessary. We also contacted all Jewish organizations within the fire zone to let them know of our available resources. Federation then serves as a point of contact for organizations like the Jewish Federations of North America to let them know how they can best support our community.
Our community is at its strongest when we work together. Our emergency plan ensures an efficient and effective response for those that are experiencing crisis.
This is just one of the many ways your Federation donation is making a difference.
Thank you.