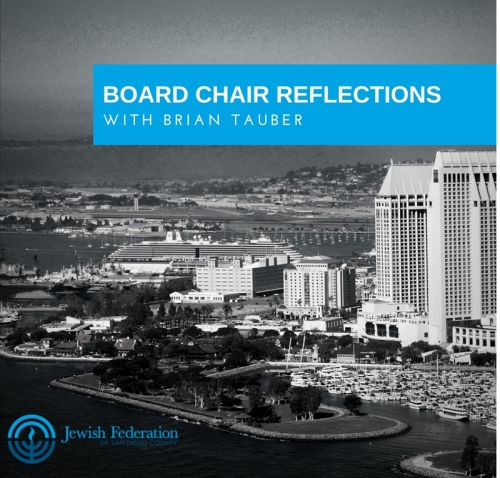 One of the most powerful concluding scenes to any movie I have ever seen is from Schindler's List. In that moment, a grass field appears in black and white, and then brightens to color, revealing the multitude of colors of a beautiful sunny day.  A large group of people are walking in a line, arm-in-arm.  They ultimately approach a gravestone on which they place stones to honor and commemorate the movie's hero, Oskar Schindler.  These people are known as "Schindler's Jews" – the actual survivors who owed their lives to Schindler, and are accompanied by the actors who portrayed them.  This scene transforms the previous two hours of a Hollywood depiction to stark modern reality, reminding us once again of just how recently the crimes of the Shoah occurred.
On Sunday, I had the incredible honor to offer closing remarks at our community's Yom Hashoah commemoration event as Federation's representative.  As I surveyed the audience, I was humbled at the immense weight of standing before a powerful cadre of Holocaust survivors.  These are people that have endured horrors I cannot even begin to imagine, and demonstrate a strength that I could only aspire to possess.
I have gotten to know some of these incredible people over the years and remain in awe, grateful for their guidance and inspiration.  When on a Federation mission to Israel some 13 years ago, I was engrossed and emotionally overcome when a local survivor, Gerhard, unexpectedly recounted a story of his time in Auschwitz while we toured Yad Vashem. His narration will remain with me as a source of motivation forever.
I also noticed another group of people in that JCC auditorium last Sunday – the descendants of the survivors.  I could not help but ruminate on how fortunate they must feel and how lucky our community is that their parents, grandparents and great-grandparents were able to survive their ordeal and build a family; how one life is able to multiply into so many others when that opportunity was so threatened. Their continuing contributions to ensuring that we thrive as a people is beyond admirable and greatly appreciated.  As studies throughout the world report on growing anti-Semitism, the lessons the honorees experienced are ones we MUST protect against repeating, for we MUST remain diligent to our commitment of NEVER AGAIN!  Supporting the various organizations in our community dedicated to protecting and building the Jewish people, and working with Federation (and others) to ensure a strong Israel, is a responsibility we cannot afford to ignore. 
This past week, we remembered those lost in the Holocaust and honored those who survived.  To all of them and those who live as a result of their perseverance, Federation and I are forever in your debt and will relentlessly continue in our efforts to ensure the continuation of our people so that we can fulfill your legacy of strength and perseverance, be it locally, in Israel, or wherever Jews are in need.