Each week we will be introducing you to one of our Federation Women's Philanthropy Board Members.
This week, we wish to introduce you to:
Karen Jinich
Karen Jinich was born and raised in Lima, Peru.  She was raised in a Jewish family where the sense of Judaism and Zionism was integral to her upbringing and education. Her grandparents were active founders of the Jewish Community in Lima. They founded the Jewish Institutions that provided the foundations to create a strong and vibrant Jewish Community, including the Jewish Day School and the Ashkenazi Synagogue. Karen's parents also carried that legacy with pride, and play active roles in Lima's Jewish Community to this day. Her dad is always leading the Jewish Community in many of its Institutions and her mom teaches and inspires everyone around her with her talent playing the piano and also teaching Hebrew music.
She attended the only Jewish Day School in Lima, ''Colegio Leon Pinelo'', where her strong sense of Judaism and Zionism was formed. Karen also attended the "Hanoar Hatzioni ", a youth movement for Jewish kids and teenagers.  She attended college in Boston and got a Culinary Arts Degree, but most importantly, it is where she met her husband. After getting married they moved to Mexico City and started a family.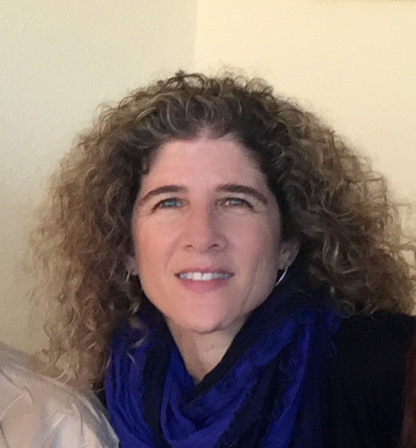 The Jinich family moved to San Diego 19 years ago. They were looking for a Jewish Day School for the children and decided to enroll them at the San Diego Jewish Academy.  Providing a Jewish Education was essential for the family, to be able to instill Jewish values and traditions in the children. Karen has always been involved at the school, helping at the Parent Teacher Organization, participating in Fundraising Events, and leading more committees.
Karen recently joined the board of "The Butterfly Project".  Using the lessons of the Holocaust, The Butterfly Project teaches about the dangers of hatred and bigotry through the arts.   Ceramic butterflies are created and painted to be displayed around the world, remembering the 1.5 million children who perished in the Holocaust. She is very passionate about this project.
Being part of Jewish Federation for the last years has been an amazing opportunity for Karen.  She feels honored to be working with such amazing and capable group of Jewish Women, who have dedicated their time, and passion in order to create a caring, vibrant Jewish community, in San Diego,  Israel, and around the world. She is looking forward to this new year of learning and working together.