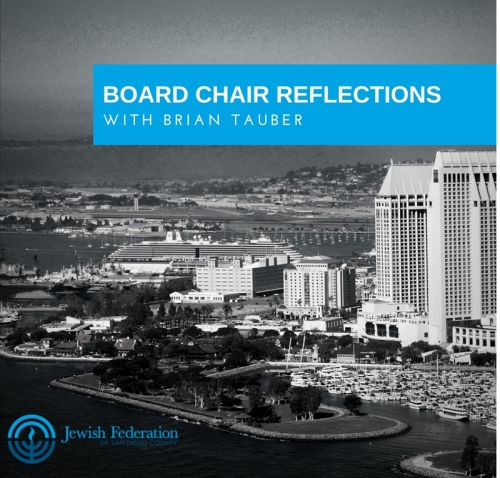 Jewdar (noun) - (slang) The supposed ability of a person to be able to detect or intuitively sense whether another person is a Jew.
Wiktionary (somewhere on-line…)
A few weeks ago, I wrote about a story of failed Jewdar, but one that left an indelible imprint upon my psyche (if you missed it, click here), one that is especially poignant with Yom Hashoah, Holocaust Remembrance Day, only days away.  Today, I hope to convey the practical, as well as emotional impact of feeling a part of the Jewish community.
In my business career, I have spent a great deal of time trying to connect with customers, albeit for commercial purposes.  Regardless, I enjoy this aspect of my job and have found many instances of developing sincere friendships and, even when not beyond "work friends", a level of mutual trust. 
When introducing myself and our company to a new customer or team member of an existing customer, I strive to find areas of commonality on which to build rapport. Early impressions are critical in developing the trust that can be so critical in a business relationship.  Sometimes, that connection can be geographic (grew up in Michigan); or educational ("Go Blue!" is always a good one, although rare); or a hobby in common. While there are others that I try to identify, there is one that has proven the strongest of all. Sometimes a physical appearance or last name may reveal potential Jewish roots, but more often, I am struck by an emotional sonar that reverberates through my bones.  It's my Jewdar. Once the senses begin to tingle, I search for openings to expose my faith, be it a Yiddish word, reference to an upcoming holiday, or any number of openings based on the conversation.
When my subtle (or not) comment achieves its target, the conversation changes. Totally. The body language changes. It's more relaxed. Friendlier. All of a sudden, we joke. We laugh. We have a connection and shared heritage to which few in the room can relate. Certainly, our conversation and operational performance must meet muster, but I now have someone on whom I can call for more trusted conversations and "off the record" advice. When an issue arises, I have someone who is little more likely to be in my corner.
I admit, I try to use my Jewdar to my advantage, yet there is more. Much more. It is sincere and genuine.  It is the same sense of belonging I and many others seek in participating in the Jewish community, be it through Federation's efforts to build and maintain a strong community, or through any number of other media, both formal and casual. It is the core of what Federation does.  When I go to Men's Event or Options (yes, I go) or Next Gen Gala (yes, I go) or contribute to our collective future, I am rewarded with the warmth of belonging to a people who share so much – and a people who need each other to ensure our future and help our fellow Jews in need.
I hope I will see you this afternoon at the JCC as we honor those who suffered through the horrors of the Holocaust. I am humbled to be with so many whose families made the ultimate sacrifice and to honor the millions victimized by history's greatest crime. Trust me, your Jewdar will generate immense warmth of knowing you are with your community.