World ORT's grande dame, Doreen Hermelin, has been honoured at the International Lion of Judah Conference in Washington DC.
The Jewish Federations of North America's biennial gathering of the world's most dynamic Jewish women philanthropists awarded Mrs Hermelin, an Honorary Vice-President of World ORT and Life Trustee of ORT America, the Kipnis-Wilson/Friedland Award, which honours women who demonstrate exceptional leadership and commitment.
World ORT Director General and CEO Shmuel Sisso congratulated Mrs Hermelin: "This is a richly deserved recognition of Doreen's vigorous humanitarianism. Her dedication to ORT's mission of Educating for Life is unparalleled. Across five decades, she has pushed our organisation to ever greater heights and has done so with unfailing grace and charm."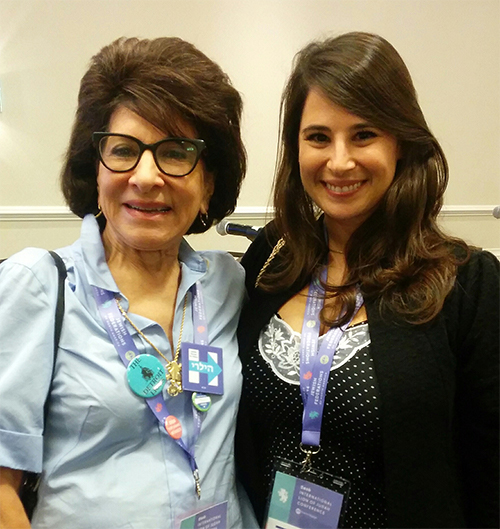 Members of Mrs Hermelin's community of Detroit have also been quick to show their wholehearted approval.
"Doreen Hermelin has done so much for so many and the greatest part about it is that most people will never know," senior World ORT lay leader and Immediate Past President of ORT America's Michigan Region, Brad "Bubba" Urdan, wrote on Facebook.
"Thank you, Doreen for your steadfast leadership of our community whether it was behind the scenes or standing right up front and telling us about the great needs of our community. You truly are a Very Special Lady!"
ORT America – Michigan Region posted on Facebook: "So well deserved to one of the most dedicated leaders in the Detroit Community. You are an inspiration to everyone!"
And Paul Foundation CEO Susie Hovsepian added: "You are an extraordinary leader of philanthropic and global community excellence! Your mentorship is the priceless gift of legacy that inspires and resonates within the hearts and minds of all."
Mrs Hermelin's late husband, David, was President of World ORT from 1993 until his appointment as US Ambassador to Norway in 1997.
Among the speakers at the International Lion of Judah Conference was Michal Katz, the Head of World ORT Kadima Mada's Pedagogy Desk, and Suellen Kadis, who sits on the Boards of ORT America and the JFNA's National Women's Philanthropy (NWP).
Ms Katz leads Kadima Mada's new HABEK programme. The programme trains teachers in Israel's periphery to integrate an advanced synthetic phonic system, which helps children grasp the complex English spelling code in simple, logical steps, with the country's English curriculum.
Qualified with a Master's in education from Haifa University, Ms Katz worked as an English teacher for students with learning disabilities before joining World ORT Kadima Mada.
"Most of my students had one thing in common – the way they were being taught English in school did not meet their individual needs, which led to frustration, which eventually led to the development of an 'anti-English' attitude," she told the Building the Jewish Future: Young Leaders Across the Globe session.
She said she was passionate about helping Israeli students "breach that English language barrier because I truly believe that this will allow all our students, especially those in the periphery, to unlock their potential and become an integral part of our globalised society".