On June 12, Israeli teens Eyal Yifrach, Gilad Shaar and Naftali Frenkel were kidnapped on their way home by members of Hamas. Join us in expressing solidarity with their families by adding a message below.

To the families of Eyal, Gilad, and Naftali,

As the search continues for your sons, we pray for them like they are our own.

We stand together with you and send our prayers, thoughts and support to you and all of Israel as we stand up to terror and mount every possible effort to safely #bringbackourboys.
Show your support by adding a message below.

Federation and the San Diego Jewish Community stand with Israel in praying for the safe return of three teenaged boys who were abducted Friday in the West Bank.  #bringbackourboys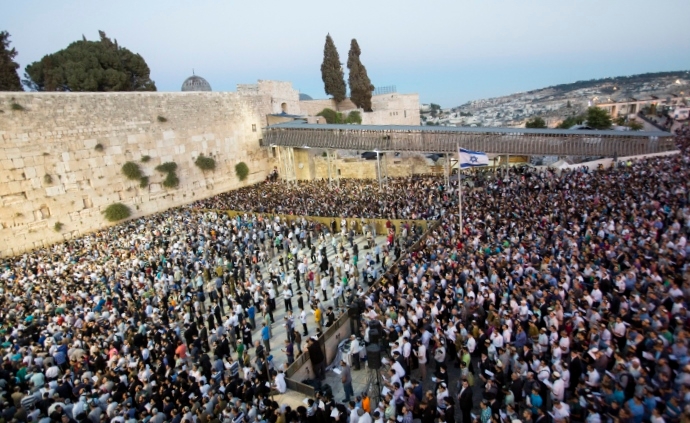 Thousands gather at the Western Wall in Jerusalem's Old City to pray for the release of three kidnapped Israeli teenagers, June 15, 2014. (Yonatan Sindel/Flash90)

JERUSALEM (JTA) — Thousands gathered at the Western Wall to pray for the safe return of three teens kidnapped in the West Bank.

More than 25,000 people attended the Sunday evening service led by Chief Rabbi David Lau. Chief Rabbi Yitzhak Yosef also was at the service, as were members of the Chief Rabbinate council and Knesset members.

"We prove to our enemies that the nation of Israel is alive and will never be broken," Lau said at the service. "Everyone gathered here at the Kotel as one, with one heart, unified in a prayer for the safety of the kidnapped, that they will be swiftly returned to their families."

Meanwhile, a Facebook page dedicated to the return of the teens, Bring Back Our Boys, has garnered more than 64,600 likes since its establishment on Friday.

The three Israeli teens, including one dual Israeli-American citizen, have been missing since Thursday night. They were last seen trying to get rides home from a yeshiva high school in Gush Etzion, a bloc of settlements located south of Jerusalem.

The missing teens were identified Saturday as Gilad Shaar, 16, from Talmon; Eyal Yifrach, 19, from Elad; and Naftali Frenkel, 16, from Nof Ayalon, the American citizen.

Meanwhile, it was cleared for reporting by the military censor on Sunday evening that one of the kidnapped teens had made a call to the police moments after the kidnapping, at approximately 10:30 on Thursday night. The teen reportedly whispered "We have been kidnapped!" before the call was disconnected.

Police did not report the suspected kidnapping to the military until about 4 a.m.

West Bank police receive dozens of false reports of attempted kidnappings each day, the Times of Israel reported.

Read more: http://www.jta.org/2014/06/15/news-opinion/israel-middle-east/thousands-gather-at-western-wall-to-pray-for-abducted-teens#ixzz34pVycyIL