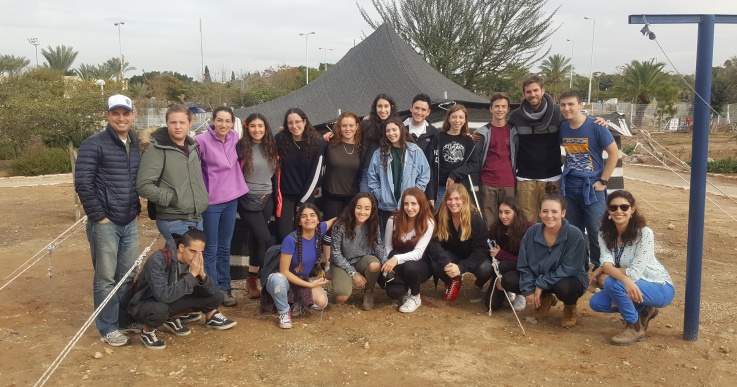 Federation's San Diego-Sha'ar HaNegev relationship personalizes our dedication to the land of Israel. Through this rich partnership, San Diegans are able to see, touch, and smell what it means to live in the Jewish homeland. Your support allows hundreds of teens and young professionals the opportunity to participate each year.
2018 marks 20 years of partnership between the San Diego Jewish community and Sha'ar Hanegev.  Like most partnerships, we have experienced some change over the years, but the connections, programs and people we have impacted continue to be a bright light on all sides.  
Amid this process of change, we see things that are not only preserved, but continuously evolving.  Thus, towards the end of last December, during the winter break in the U.S., we hosted (for a fifth time!) boys and girls from Congregation Beth Israel. Eight teens from Sha'ar Hanegev joined the Americans for an evening of getting acquainted and activities in Tel Aviv.  The following day the entire group arrived to Sha'ar Hanegev so the San Diego teens could be introduced to kibbutz life, visit their hosts' school and enjoy home hospitality around an Israeli dinner table. After spending 24 hours in the Sha'ar Hanegev Partnership region, the San Diego visitors continued on their tour of Israel while their Israeli friends hunkered down to study for the upcoming language exam.
Among their many shared experiences, the two groups of teens gathered to create ceramic tiles in a Sha'ar Hanegev workshop (Beit Malacha), guided by Livnat Kutz, its Founder and Executive Director and, Shani Baram.  We recently sent the finished tiles to San Diego where they will adorn the synagogue's and Federation's halls, to serve as a souvenir of our partnership between Congregation Beth Israel teens, Sha'ar Hanegev, and Federation's My Israel Journey program.
That same week, a delegation of teens from Temple Solel paid a visit to Sha'ar Hanegev.  During their stay, the American teens engaged in a day of activity that familiarized them with Kibbutz Nir Am. They were guided by the same eight Israelis who accompanied the Beth Israel group.  Later that day the Americans were hosted for a lavish home dinner followed by bidding farewell to their hosts.  For Temple Solel, this was their first youth visit to Israel.  After this successful experience, we hope to see them here again next year! 
The Israeli youth we entrusted with our guests are scheduled to travel to San Diego this summer and will serve as camp counselors. At camp they will be part of a counseling staff that includes some of their American friends they hosted in Israel.  This time, the Americans will be hosting their Israeli counterparts for three weeks in the summer.  This project has been in operation for five years – in association with the Sha'ar Hanegev Social Education department, which also partners in hosting the incoming groups.
For twenty years all sorts of connections have formed between us.  How wonderful it is to witness how, in a single week, in the middle of winter, new friendships have formed, and existing connections grow even stronger!
By Yael Raz Lachyani, Sha'ar HaNegev Partnership Director